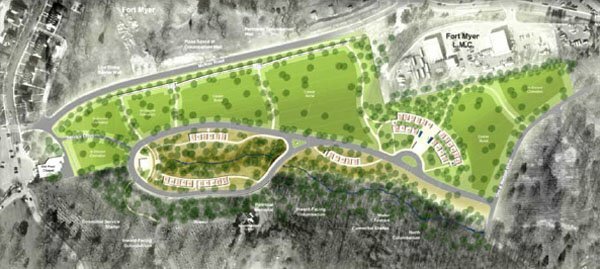 Image: Army Corp of Engineers
Plans to expand Arlington Cemetery may be on hold thanks to an unanticipated controversy around old-growth trees that would be destroyed, according to the head of Arlington County's Environmental and Energy Conservation Committee.
At a Jan. 28 meeting, E2C2 unanimously approved a letter to the Army Corps of Engineers opposing the cemetery's "Millennium Project" expansion and arguing that the environmental assessment published in December was inadequate.
"We understand the pressures on the [Arlington National Cemetery] to provide new burial sites," the committee wrote . "The proposed destruction of the largest remaining old-growth woodland in northern Virginia would buy ANC only another 7-12 more years of new burial sites. Old-growth forests are in essence irreplaceable."
In an email to the Mercury, the Corp said it will reevaluate the environmental impact.
"To address concerns that have been raised, we intend to revise the current Environmental Assessment and re-issue for public review," wrote Susan Connor. "We believe we will be able to address the concerns in a timely manner so it will have minimal impacts if any to the overall timeline of the project."
Connor, head of the Army Corps of Engineers Norfolk district's environmental analysis section, said the EA process is designed to balance the cemetery's needs with the environmental impact.
E2C2 Chair Susan Cunniff said the Corps was taken by surprise by popular outcry against plans to cut down 890 trees, including some dating back around 130 years.
"It turned out to be a lot more controversial than [the Corps] ever imagined," Cunniff added.
Cunniff said the official period to comment on the environmental assessment closed earlier in January. She also said the Environmental Protection Agency may take an interest in the expansion.
Related: