News. Old school.
Mercury is old school.  The very word itself hearkens back to ancient Rome and has had a tradition on newspaper mastheads for a century.  That's part of why we chose the name.  We have old school journalistic values and believe that people looking for in-depth news coverage in Arlington will look to find it online more and more. 
Mercury is also elemental, quicksilver,  a liquid that measures the temperature, or in this case, the mood, of the community. It reports the highs and lows of the day.  And of course, Mercury, the deity, the messenger, rode the wind and delivered the news.
So that's our challenge to ourselves: to maintain a news website that relies on the old school values of fact checking and strong, community-based story telling, with the speed and creativity that the Internet and equipment allow.
We will not always be first with a story (though we'll try).  But we will be complete and trustworthy.  We go to meetings; we read documents; we meet people in their neighborhoods; and we report back to you.
---
The Merc is the only nonprofit news source dedicated solely to Arlington and the issues that Arlingtonians face. We are: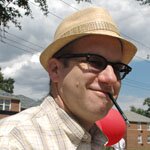 Steve Thurston, Editor.
Steve Thurston, a long-time community journalist and community journalism professor, was the editor/writer of the popular HeraldTribblog in Arlington's Buckingham neighborhood.  For his work on the HeraldTrib, he was featured in the Washington Post's Sunday Source, was a guest on WAMU's "Kojo Nnamdi Show," is featured on the Knight Citizen News Network, and was a guest on Arlington Independent Media's inaugural "Voice Box."  He was featured twice for his work on the Buckingham Independent News (a short-lived, print predecessor to the HeraldTrib) in Publishers' Auxiliary, the newspaper of the National Newspaper Association. NNA is a community journalism association. Thurston is a member of the International Society of Weekly Newspaper Editors. He has entered the Virginia Press Association awards competition just twice and has come out winning a prize in both cases.  He has lived in Arlington since 1995 with his wife, two kids and various pets.
---

L. Carol Ritchie, Managing Editor,
Carol Ritchie has worked as a reporter and editor for more than 20 years. She worked most recently as homepage editor of Washingtonpost.com, through the early years of online journalism and into the age of Internet dominance. A native of Michigan, she was a reporter for the Detroit Free Press and worked for Michael Moore at his alternative monthly, the Michigan Voice. She was environment reporter for the now-defunct Nashville Banner, and in Washington reported for a newsletter covering environment and energy news in Congress. She has lived in Arlington for 18 years and in the past few years has stayed home with her three kids, now at Ashlawn, Washington-Lee and Virginia Tech.