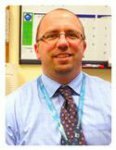 Image: APS
As first reported earlier this week, Arlington Public Schools Superintendent Patrick Murphy nominated, and last night the Arlington Public Schools Board approved, Dan Redding as the new principal of Barrett Elementary School and Colette Bounet as the new principal of Barcroft Elementary School.
In a statement, Murphy wrote, "His work as Director of Employee Relations provided an opportunity for him to strengthen his knowledge of Human Resources operations, policies and procedures. His passion for education is evident and I believe that Mr. Redding's professionalism, organizational skills and dedication will transfer well into the principal position at Barrett."
In a separate statement, Murphy wrote, "It is evident that Ms. Bounet's support for students and families as well as her knowledge of students' needs are in the forefront of her work. She is open to new ideas and possesses the professionalism, experience and dedication needed to work with all constituents at the school."
Their appointments begin July 1. Miriam Hughey-Guy of Barcroft and Theresa "Terry" Bratt of Barrett, respectively, are retiring.