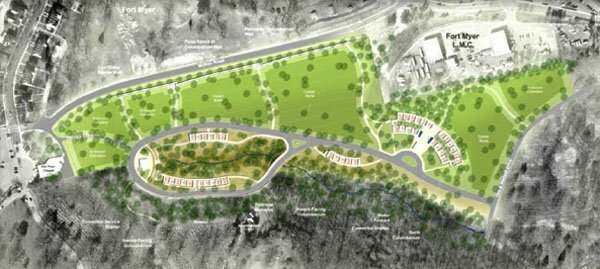 Image: Army Corp of Engineers
A proposed Arlington National Cemetery expansion may eat into the only remaining stand of old-growth forest in Arlington County, alarming county officials.
The county's historic preservation staff wrote to the Army Corps of Engineers after seeing plans for the project to voice its concerns about the woods.
At a Historical Affairs and Landmark Review Board meeting on Wednesday, Historic Preservation Planner Rebeccah Ballo noted that the board still has time to voice an opinion on the subject at future meetings, though they did not vote on action items that night.
"Essentially, what's at stake is the last old-growth forest in the county," Ballo told committee members.
The Army Corps of Engineers released its Environmental Assessment for the "Millennium Project" this month. The project -- which has been in the works since the 1990s, but is gearing up again after years of controversy and turmoil at the cemetery -- would provide more burial plots for the fast-filling cemetery.
In the study, the Army acknowledges that its preferred plan would involve clearing 890 trees, some of which date back to just after the Civil War. However, officials pledge to leave a patch of 220-year-old trees in tact.
The trees are west of Arlington House, a historic structure on the edge of the existing burial ground. The environmental report traces the woods back to historic writings, drawings and photographs from around the time Gen. Robert E. Lee lived there.
The groves on the firing line include 90-year-old white oak and chestnut oak and 130-year old northern red oaks. The report also said there are two native plants, Lonicera sempervirens and Prunus virginiana, in the project area that can't be found anywhere else near the George Washington Memorial Parkway.
The report says that preserving trees is a priority for the project, and planners hope to minimize the damage by planting 600 new trees.
Ballo said she planned to attend a meeting of the Arlington Urban Forestry Commission, which will also be pondering the Millennium Project plans, Thursday night. The meeting is open to the public.
Related: