Photo: Sydney Paul
Tucked away in the middle of Arlington's Barcroft Park, Phoenix Bike Shop sits inside a building just a tad bit larger than the size of an average classroom, but not for much longer. The organization is planning to move to a larger location, which will help the shop expand the reach of its programs that are positively impacting the community, especially its youth.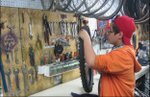 Phoenix Bikes is a non-profit organization that provides local youth with lessons in bike mechanics, repair and maintenance with the goal of building character and self-esteem that comes with learning a skill.  They also support the community with affordable recycled bikes and repair services that help foster the youth program, according to their website.
In 2011, the shop began raising money to move its organization to a new spot no more than a half mile from where they are located now.  
The bike shop has raised over $50,000 for the project, and has used that to develop architectural designs to a point where they'll feel comfortable going public with the idea.
Fundraising is currently "in a state of limbo," according to Executive Director Henry Dunbar, because the organization is working with Arlington County to get approval to use the location they want, which is public space.  The next step in the process is having community meetings to discuss the approval of land use.
"When we get through with those, we'll see our fundraising efforts get more aggressive," Dunbar said.
The new location, on the corner of S. Walter Reed Drive and S. Four Mile Run Drive, is a prime location for Dunbar, who is excited about the move for many reasons.
Dunbar said they want to be adjacent to the Washington and Old Dominion Bike Trail, where they will be near major commuter corridors and visible to the public.
"It's almost a daily occurrence where I'll talk to people and they'll say, 'You know, I've been riding by here for years, and I had no idea you were back here'," he said.  "We'll no longer be a well-kept secret."
The Shop and Programs
Chains, handlebars, tools and other parts are piled along counter tops of the building the company has called home since 2007. Lining its walls from corner to corner are bicycle wheels almost stacked on one another. The floor is covered by the skeletons of bikes propped up, yet broken down to their essentials. When the shop is as its busiest, there is barely enough room for mechanics and visitors to get around one another. It serves about 50 to 80 kids plus a smaller number of adults every year.