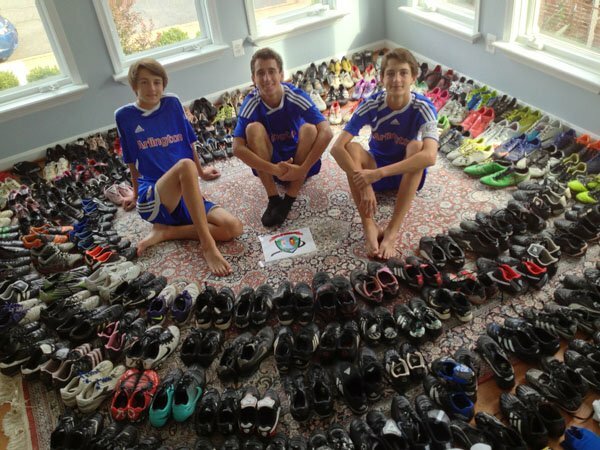 Photo Courtesy: Penovi Orjales family.
The Orjales brothers of Arlington made their first shipment of 30 soccer cleats to India on Saturday. They have plans to ship to Mozambique, Macedonia, and Nigeria.
"We're sending, I think, 60 pairs of cleats to Haiti," Lucas Orjales said. Not bad for three high schoolers and a project they started in August.
They have an impressive business acumen, the way they stay on message in an interview and answer with specific details.
They are particularly impressive, given that Andres, 16 and a Washington Lee High School junior, is the oldest of the three. The twins, Lucas and Pablo, are 14, and freshmen.
The three have been collecting used cleats in Arlington for about six weeks and had accumulated about 180 pair before Saturday. The sizes range from small enough to fit 2 or 3 year olds to adult sizes.
They call the project "Your Cleats for Bare Feets" and the plan is to distribute them to needy children worldwide.
"They have started very small," their mother, Celina Penovi, said.
The first 30 that left for India on Saturday went in a duffle bag with family friend William Cook, and their father, Rudy Orjales, plans to deliver cleats as he travels in coming months. However, hand delivery might not always be an option, the boys and their mother said. The shipment they are planning for Mozambique is 60 pairs.
"We might have to contact the embassy in terms of sending used cleats," she said. They need to make sure customs agents know the shoes are a donation and not for sale. She is a lawyer at the World Bank. "We are trying now to see what would be the best way" to ship them.
This project started over the summer, when the boys wondered what to do with their own used shoes.
"All of us had--like--old cleats that didn't fit us anymore," Pablo said. They thought of sending them overseas. Looking abroad is not odd for the Orjales family. When in Argentina--their mother's home country--they discovered an orphanage that needed clothes, so the family got a hold of schools in  Arlington and helped set that up.
Penovi attributes the activist attitude to two things: travelling and seeing needy people in other countries, and eating "dinner [at home] at night, every night." The boys said the discussion around the table often turns to world issues.
"It was our decision to do this," Andres said, adding, their parents "were there to support us."