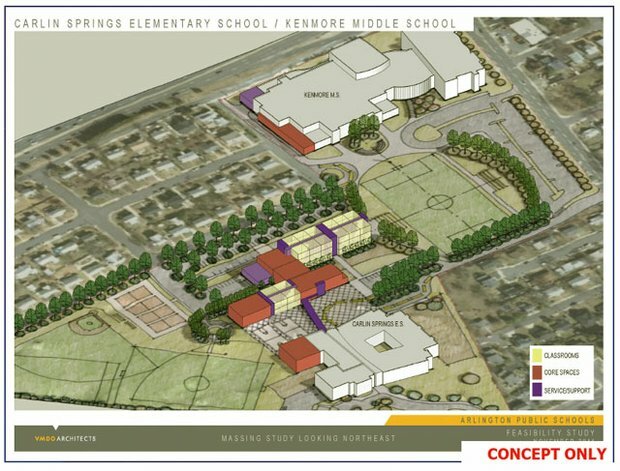 Image: VMDO Architects via APS
Parents and other Arlington residents at the public forum on school capacity solutions Wednesday asked how school construction projects will impact traffic, green space, water runoff and boundary lines.
Also on the public's mind: How soon could these projects, at six different sites across north Arlington, relieve overcrowding at Tuckahoe Elementary, the county's most-crowded school.
"I can assure you, Tuckahoe's needs are at the top of the list to be addressed," answered school Facilities Planner Alison Denton.
Crowding at Tuckahoe and other elementaries could ease by the start of the 2014 school year if the board decides to use reserves to start this spring on additions at Arlington Traditional School, Ashlawn Elementary and McKinley Elementary.
The school district would have to seek approval for a bond in the November election to go ahead with the full set of building projects that officials hope will handle the enrollment boom for the next 10 years. The projects would be confirmed in the district's capital improvement plan (CIP), which the board will discuss at its May 10 meeting and bring to a vote June 19.
That time span is longer than the usual six-year CIP and is designed to deal with an expected student population increase of almost one third by 2021. Total enrollment, currently at about 22,000, is projected to rise to 30,000 in 10 years, about 7,000 more students than the county has seats for.
The first set of projects, which also include new elementaries at Williamsburg and Kenmore middle school sites and new classrooms at the Madison Community Center, are only enough for the next six years of growth, Denton said, and would cost about $130 million
Denton and her team will return to the board on April 25 to present a new set of options for the six-to-10 year range, when those elementary students begin to overcrowd Arlington's middle schools. For those options, they will go back to a list of 33 other projects they produced for the board in February.
Chadwick told the crowd of about 60 who came to the Washington-Lee auditorium for the forum that as soon as projects are approved by the board, school planners will begin work with PTAs and neighborhood groups on specific needs at each site. Traffic studies would be done by outside consultants while schools are in session, he said.
That was a relief to Williamsburg neighborhood resident Chris Munson, who said traffic is already bad around the middle school. "We have choke points in the Williamsburg neighborhood that bring everything to a halt, especially during soccer games," Munson said.